Categories
iOS 7.0.4 - A necessary update or not ?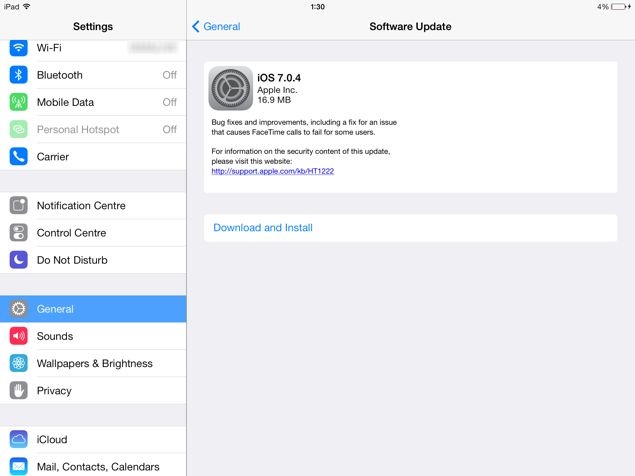 iOS 7.0.4 is now available for iPhone, iPad and iPod touch. It can be downloaded via the Software Update section of the native Settings application in iOS.
Apple's official release notes state that the update includes "bug fixes and improvements, including a fix for an issue that causes FaceTime calls to fail for some users."
The update applies to the iPhone 4, iPhone 4S, iPhone 5, iPhone 5c, and iPhone 5s; the iPad 2, third- and fourth-generation iPads, iPad Air, iPad mini, and iPad mini with Retina display; as well as the fourth- and fifth-generation iPod touch models.
Also in November 2013 , Apple released a software update for its Apple TV set-top box. Apple TV software version 6.0.2 is now available for download.
For users of the fourth-generation iPod touch, which cannot run iOS 7, Apple has also released iOS 6.1.5 to address FaceTime issues on that device.
For iPhone 4 and 4S isn't indeed a recommended update because of the 512MB of RAM they have which isn't really enough for iOS 7, unfortunately which is why your iPhone4 and 4S seems to be lagging.
iOS 7 seems to be running smoothly on most iPhone 5 devices which have 1024MB of RAM as opposed to 512MB from iPhone4 and 4S.
Apple announced 7.1 upcoming in the near future so we recommend the owners of iPhone4 and 4S to wait a little bit for the new update to come!
We strongly recommend you back up your iOS device to iCloud or with iTunes before installing any iOS updates.
Advertisement